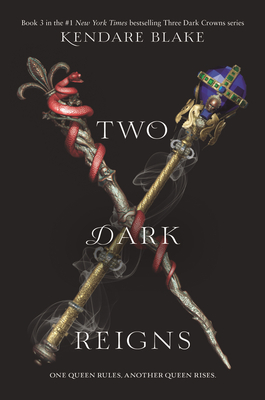 Two Dark Reigns (Three Dark Crowns #3)
Publication Date:
April 7th, 2020
Publisher:
Quill Tree Books
Breakwater Books
On hand, as of Dec 3 5:22pm
(YA HARD & SOFT COVER 13 & UP)
On Our Shelves Now
Description
#1 New York Times bestselling author Kendare Blake returns with the highly anticipated third book in the Three Dark Crowns series! And while Arsinoe, Mirabella, and Katharine all have their own scores to settle, there is another queen stirring things up on Fennbirn Island.
Queen Katharine has waited her entire life to wear the crown. But now that she finally has it, the murmurs of dissent grow louder by the day. There's also the alarming issue of whether her sisters are actually dead—or if they're waiting in the wings to usurp the throne.
Mirabella and Arsinoe are alive, but in hiding on the mainland and dealing with a nightmare of their own: being visited repeatedly by a specter they think might be the fabled Blue Queen. Though she says nothing, her rotting, bony finger pointing out to sea is clear enough: return to Fennbirn.  
Jules, too, is in a strange place—in disguise. And her only confidants, a war-gifted girl named Emilia and her oracle friend Mathilde, are urging her to take on a role she can't imagine filling: a legion-cursed queen who will lead a rebel army to Katharine's doorstep.
This is an uprising that the mysterious Blue Queen may have more to do with than anyone could have guessed—or expected.
Don't miss Five Dark Fates, the thrilling conclusion to the series!
Praise for Two Dark Reigns (Three Dark Crowns #3)
"Brutally brilliant and exquisitely devastating.  Kendare Blake is a master of plot twists and making hearts bleeds. This book destroyed me in the best possible way. Prepare to be ruined." — Stephanie Garber, New York Times bestselling author of Caraval and Legendary
★ "Tragic, devastating, horrifying, enthralling." — Kirkus Reviews (starred review)
"This third series installment expanded on the world introduced in Three Dark Crowns and One Dark Throne, and the stakes, if possible, are higher than ever. Fans will be ready to kill for this." — ALA Booklist
PRAISE FOR ONE DARK THRONE: ★ "Blake's already pitch-dark tale shades even darker. Exquisitely restrained prose, deliberate pacing, paying off in a tumultuous climax that piles one shocking twist upon another. Achingly gorgeous and gruesomely fascinating."   — Kirkus Reviews (starred review)
"This sequel to Three Dark Crowns loses none of that book's momentum, powering toward a conclusion that leaves several doors open. With wonderfully drawn characters and a lethal, unpredictable plot, this follow-up will leave readers breathless as the queens' fates unfold." — ALA Booklist
PRAISE FOR THREE DARK CROWNS: "New exciting heights with a driving plot. Dark indeed, and exploring themes of loyalty, this is a thrilling sequel with everything from action to romance to entice readers. A strong purchase for YA fantasy shelves."   — School Library Journal
"Three Dark Crowns is a brutal and inventive fantasy that is as addictive as it is horrifying. I can't begin to guess the fates of these three remarkable sister-queens, but I'm salivating like poisoners at a feast to find out what will happen next." — Marissa Meyer, New York Times bestselling author of the Lunar Chronicles Marissa Meyer, New York Times bestselling author of the Lunar Chronicles
"Full of mystery, intrigue, and deadly girls I wouldn't dare cross, Fennbirn is a darkly magical world I'm both drawn to and frightened by. In short, this is a book I could linger in for months, with three girls I am rooting for with all my heart." — Megan Shepherd, New York Times bestselling author of The Cage series Megan Shepherd, New York Times bestselling author of The Cage series
★ "With exquisite world building and luminous detail, this is high fantasy at its best. The magic is fierce and the plot intensely twisted, but at this novel's dark heart beats a story about sisterhood, the unbreakable bonds of family, and ties that bind enough to kill." — Booklist (starred review)
★ "The opener to a pitch-black epic fantasy series. Blake has constructed an insular, matriarchal society from convincing intimate details, vivid, complicated characters, [and] sumptuous, poetic prose. Gorgeous and bloody, tender and violent, precise, and passionate; above all, completely addicting. " — Kirkus Reviews (starred review)
"I loved this book. Blake's Three Dark Crowns is hypnotic, twisting, and beautiful...as satisfying as a drop of poison in an enemy's cup." — April Genevieve Tucholke, author of Wink, Poppy, Midnight
"Readers will be riveted by Blake's ingenious world-building, stunning developments of main and supporting characters, and spiraling tensions. Highly recommended for fans of fantasy action thrillers with strong female leads, such as Victoria Aveyard's 'Red Queen' and Sarah J. Maas's 'Throne of Glass' series." — School Library Journal
"Blake is a sure hand with complicated and intricate plots, and if that's not enough to make readers stick around for the next installment, the cliffhanger ending certainly will." — Bulletin of the Center for Children's Books
"Blake establishes myriad side plots and relationships, builds complex characters, and leaves plenty of compelling avenues to explore in future books." — Publishers Weekly