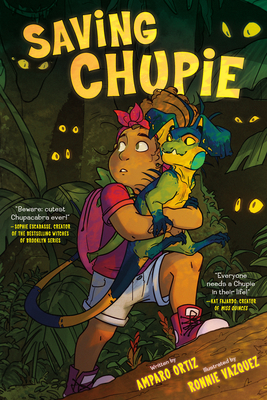 Saving Chupie
Publication Date:
August 1st, 2023
Usually Ships in 1 to 5 Days
What would you do if you didn't believe in monsters, then came across a chupacabra? What if that
chupacabra was sweet like a puppy? Violeta must save Chupie and show everyone that not all creatures are monstrous in this heartfelt graphic novel.
September/October 2023 Kids Indie Next List
Description
Violeta Rubio and her friends are on a mission to protect their local chupacabra from international smugglers and monster hunters in this supernatural island adventure by acclaimed author Amparo Ortiz and debut illustrator Ronnie Vazquez.
Violeta Rubio only has one goal in mind for her first-ever trip to Puerto Rico: help Abuelita reopen her beloved restaurant. The only problem is that Violeta's whole family thinks they can do it without her. Now Violeta doesn't have anyone to hang out with or anything to do. But when best friend duo Diego and Lorena need help capturing the rumored chupacabra, Violeta sees her chance to change all that.
What she isn't expecting is to run straight into the beast! Only…he isn't as monstrous as everyone assumes. Sure, he's got some scales and spikes, big red eyes, and pointy fangs—but he's totally puppy and loyal to a fault. Violeta must find a way to keep Chupie hidden and convince her newfound friends that he isn't anything to be scared of.
And if that isn't hard enough, a new threat lurks around the corner that is dead set on capturing Chupie for their own nefarious means. Will Violeta be able to save Chupie from the danger that surrounds them without sacrificing everything else in the process?
Saving Chupie captures the resilience of a young girl, a family, and an island in the face of nearly impossible odds and proves that love and friendship conquers all in this timely new adventure inspired by Puerto Rican culture and lore.
Praise for Saving Chupie
"Expertly weaves Puerto Rican culture and lore into themes of familial love and friendship difficulties. An enticing, broadly appealing blend of Puerto Rican mythology and relationship-driven adventure. " — Kirkus Reviews
"Highly recommend this fantasy-realism hybrid with plenty of action and humor." — School Library Journal
"Beware: cutest Chupacabra ever!" 
— Sophie Escabasse, creator of the bestselling Witches of Brooklyn series
"Everyone needs a Chupie in their life!" — Kat Fajardo, creator of Miss Quinces 
"What's better than a summer vacation with new friends and a mythical beast? Saving Chupie has them both and more."
— Tim Probert, creator of the Lightfall series
"Expressive, colorful, and full of heart-- perfect for a young animal enthusiast looking for adventure."
— Wendy Xu, author of Tidesong 
"I'm a sucker for coming-of-age stories mixed with a kid and a secret monster. Saving Chupie is like E.T. in Puerto Rico." — Yehudi Mercado, author of Chunky Goes to Camp
"Saving Chupie is as heartwarming as it is hilarious, standing out in a crowded graphic novel space with a unique voice, stunning art, and unforgettable characters." — George Jreije, author of Shad Hadid and the Alchemists of Alexandria