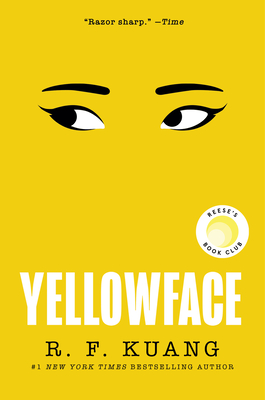 Yellowface: A Reese's Book Club Pick
Publication Date:
May 16th, 2023
Publisher:
William Morrow
Breakwater Books
On hand, as of Sep 30 9:21pm
(FICTION NEW HARD)
On Our Shelves Now
Staff Reviews
I must admit, the title was a bit of a turn off...but then I started reading. This is a witty, dark satire about authors, writing, the publishing industry, race, who has agency to tell what story and who decides. It's written by an Asian American woman; the protagonist is a white woman who writes about Chinese workers; another main character is a Chinese American woman who writes about Koreans...you get the satirical point. Rebecca Kuang dives into the deep topics of how agents and publishers treat authors and create bestsellers, what is ethical and where does an author draw the line - and she manages to do it within an engaging, twisty mystery that had me riveted right to the end.
Recommended by Dani.
— breakwaterbks
Equal parts modern satire, indictment of the publishing industry, and twisted ghost story, R. F. Kuang's first foray into literary fiction pulls no punches and will have you reading late into the night.
June 2023 Indie Next List
Description
INSTANT NEW YORK TIMES BESTSELLER • A REESE'S BOOK CLUB PICK
"Hard to put down, harder to forget." — Stephen King, #1 New York Times bestselling author
White lies. Dark humor. Deadly consequences… Bestselling sensation Juniper Song is not who she says she is, she didn't write the book she claims she wrote, and she is most certainly not Asian American—in this chilling and hilariously cutting novel from R.F. Kuang, the #1 New York Times bestselling author of Babel. 
Authors June Hayward and Athena Liu were supposed to be twin rising stars. But Athena's a literary darling. June Hayward is literally nobody. Who wants stories about basic white girls, June thinks.
So when June witnesses Athena's death in a freak accident, she acts on impulse: she steals Athena's just-finished masterpiece, an experimental novel about the unsung contributions of Chinese laborers during World War I.
So what if June edits Athena's novel and sends it to her agent as her own work? So what if she lets her new publisher rebrand her as Juniper Song—complete with an ambiguously ethnic author photo? Doesn't this piece of history deserve to be told, whoever the teller? That's what June claims, and the New York Times bestseller list seems to agree.
But June can't get away from Athena's shadow, and emerging evidence threatens to bring June's (stolen) success down around her. As June races to protect her secret, she discovers exactly how far she will go to keep what she thinks she deserves.
With its totally immersive first-person voice, Yellowface grapples with questions of diversity, racism, and cultural appropriation, as well as the terrifying alienation of social media. R.F. Kuang's novel is timely, razor-sharp, and eminently readable. 
Praise for Yellowface: A Reese's Book Club Pick
"This is a great read. Crime, satire, horror, paranoia, questions of cultural appropriation. Plenty of nasty social media pile-ons, too. But, basically, just a great story. Hard to put down, harder to forget." — Stephen King
"Viciously satisfying…addictive." — New York Times Book Review
"Well-executed, gripping, fast-paced novel." — NPR
"Reading Yellowface felt like being inside a wild, brutal, psychological knife fight with a deranged clown. A merciless satire that left me screaming inside... from both its horror and humor."  — Constance Wu, star of Crazy Rich Asians and author of Making a Scene

"At once a brilliant satire that mixes horror and humor; a nuanced exploration of race, heritage, identity, and diversity in publishing; and an honest look at the hell that is social media, this might just be Kuang's best." — Boston Globe
"Yellowface is one of the most transfixing novels I've read in ages… Kuang boldly interrogates literary hot-button issues like privilege, appropriation, and authenticity, leaving it open for readers themselves to decide where to draw the line."   — Zakiya Dalila Harris, New York Times bestselling author of The Other Black Girl
"It's addictive, shocking, compelling, ridiculous, and extremely fun to read by turns." — Paste Magazine
"Yellowface is a brittle, eviscerating read that affected me bodily. Kuang's oeuvre consistently finds new ways to expose and interrogate systems of power, in this case tackling the commodification and consumption of art with both swagger and sophistication. Yellowface really is THAT bitch." — Olivie Blake, New York Times Bestselling author of The Atlas Six
"A spiky, snarky, shady, smart, sinister take on white privilege." — Nikki May, author of Wahala
"Yellowface is brilliant satire--thought provoking, thrilling, and hitting a little too close to home. A must read commentary on the line between representation and exploitation and those who are willing to cross it for fame. Everyone in publishing's wide orbit should read this, and take a long look in the mirror." — Vaishnavi Patel, New York Times Bestselling Author of Kaikeyi
"Yellowface is a spicy, satirical page-turner that skewers the racism and tokenization in the publishing and entertainment industries, the vanity of social media, and the lengths at which people will go to remain in the glaring spotlight."  — Tracey Lien, author of All That's Left Unsaid
"They say you should write the book that only you can write. Well, no one else but R.F. Kuang could have written Yellowface. A brilliant and unflinching take on white performativity and publishing. I'm not exaggerating when I say that Kuang is one of the most important voices in publishing today." — Jesse Q. Sutanto, author of Dial A for Aunties
"A darkly satirical thriller about greed, truth, identity, and art—and who a story really belongs to. Reading Yellowface was like riding a roller coaster with no safety belt. I screamed the whole way through!" — Peng Shepherd, author of The Cartographers

"Excellent satire from Kuang...This is not to be missed."  — Publishers Weekly (starred review)
"This unsettling and electrifying book piercingly addresses issues of cultural appropriation and racial identity." — Library Journal
"There's SO MUCH I recognised (with the odd full-body cringe) about the vagaries of publishing and the ego bin fire of being a writer and SO MUCH I learned about my own white privilege but above all it's a funny, engrossing read about what people do when they reckon they can get away with it." — Erin Kelly, author of The Skeleton Key
"Her magnificent novel uses satire to shine a light on systemic racial discrimination and the truth that often hides behind the twisted narratives constructed by those in power." — Booklist (starred review)