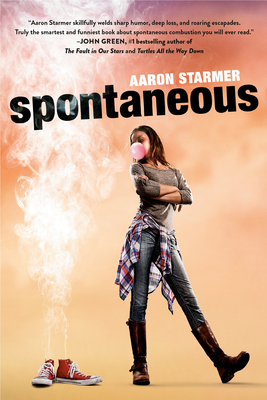 Spontaneous
Publication Date:
September 8th, 2020
Breakwater Books
On hand, as of Dec 3 5:22pm
(YA HARD & SOFT COVER 13 & UP)
On Our Shelves Now
Description
Now a new motion picture starring Katherine Langford, Charlie Plummer, and Hayley Law!
"Truly the smartest and funniest book about spontaneous combustion you will ever read." –John Green, #1 bestselling author of The Fault in Our Stars
Mara Carlyle's senior year is going as normally as could be expected, until fellow senior Katelyn Ogden explodes during third period pre-calc. Katelyn is the first, but she won't be the last teenager to blow up without warning or explanation. As the national eye turns to Mara's suburban New Jersey hometown, the FBI rolls in and the search for a reason is on. Mara narrates the end of their world as she knows it while trying to make it to graduation in one piece. It's an explosive year punctuated by romance, quarantine, lifelong friendship, hallucinogenic mushrooms, bloggers, ice cream trucks, and Bon Jovi.
 
Aaron Starmer rewrites the rulebook with Spontaneous. But beneath the outrageous is a ridiculously funny, super honest, and truly moving exemplar of the absurd and raw truths of being a teenager in the 21st century . . . and the heartache of saying goodbye.
"Wildly inventive." –Entertainment Weekly "Must List"
"A comically surreal novel that will blow your mind." –People Magazine
Praise for Spontaneous
"Aaron Starmer skillfully welds sharp humor, deep loss, and roaring escapades. Truly the smartest and funniest book about spontaneous combustion you will ever read." –John Green, #1 bestselling author of The Fault In Our Stars
"Wildly inventive." –Entertainment Weekly
"A comically surreal novel that will blow your mind." –People magazine
★ "A blood-soaked, laugh-filled, tear-drenched, endlessly compelling read." –Kirkus, starred review
★ "A wholly original YA tale of identity, friendship, love, lust, and gory, grisly death." –SLJ, starred review
"Bursting with heartache and gore, Mara's narration appeals directly to readers'
senses of horror and humor." –The Horn Book
"Honest and sympathetic in a way that will draw readers into this realistic and slightly horrific read . . . pretty fun." —VOYA
"Darkly absurd." –Bustle
"Mara's blunt, sarcastic narration is well-matched to the absurdity of the plot . . . Starmer (the Riverman trilogy) adeptly uses his bloody, madcap premise to heighten just how much of life is out of our control, and how important it is to seize whatever time we're given." –Publishers Weekly