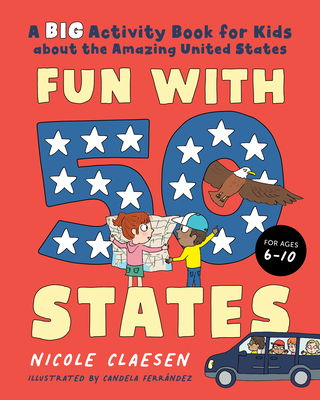 Fun with 50 States: A Big Activity Book for Kids about the Amazing United States
Publication Date:
August 24th, 2021
Breakwater Books
On hand, as of Dec 3 5:22pm
(CHILDREN'S NONFICTION)
On Our Shelves Now
Description
The big book of surprising facts and 100+ amazing activities featuring our fascinating, unique, wacky 50 states!
 
Welcome to the wild and wonderful United States of America! With 50 states, a capital in Washington, DC, and several territories, our country is home to spectacular national parks, exciting cities, and stunning vistas—as well as the only place in the world where you can dig for diamonds and keep them, the largest tree in the world, and the only place in the world where alligators and crocodiles live together! In this book, you'll discover where to find the only royal palace in the United States, a river that flows backwards, and the smallest park in the country (and the world!).
 
This awesome travel activity book helps 6–10 year-olds:
 
LEARN fascinating and often weird facts about each state, Washington, DC, and five territories, including their unique history, landscape, and attractions. Kids will learn valuable geography skills, too!
DIG DEEP INTO 100+ ACTIVITIES—ranging from mazes, dot-to-dots, and word searches to coloring pages, crack the code, and matching games—that teach even more about the states and territories and reinforce what kids have already learned.
LEAP AHEAD OF CLASSMATES in knowing where the 50 states are located, plus each state's capital, flower, bird, nickname, and more.
 
Whether you want to learn more about your amazing country, take a virtual trip that reveals hidden attractions, or have fun with activities and wacky facts, Fun with 50 States is an educational and exciting guided tour of the USA.
Praise for Fun with 50 States: A Big Activity Book for Kids about the Amazing United States
"Fun with 50 States provides a fun way for children of all ages to learn about the states. Every page highlights each state's unique attributes, showcasing the scope of America's charms. With activities appropriate for all skill levels, this book makes the perfect companion for your next road trip or for kids to share interesting state facts with their friends." —Jennifer Carter, elementary school teacher
 "Fun with 50 States is an entertaining and engaging activity book filled with fun and interesting facts about each state and territories of our beautiful country. The activities are great for all age groups and will be fun for families to complete together. This book is a perfect road trip companion for you and your family." —Marcie Ochoa, early childhood educator
"I just finished reading Fun with 50 States with my family. Even though this book is geared toward kids, I read most of it out loud to my family on our way home from a long road trip. It's filled with so many interesting facts... most we never knew! My kids are excited to go back through the book and do the activities—especially the fun word puzzles. I highly recommend this book to families who love to travel! It would also be a great resource for teachers and home schoolers." —Darla Slade, FunFitnessFamily.com
"I don't know whether I want to pack my suitcase and hit the road or cozy up in a chair with a pencil and crayons to do all the fun puzzle pages! I think just about any age group would enjoy this book—from the family traveling together with kids to retirees ready to see America. I love the map to track your US adventures. What a wonderful resource to have as you plan a vacation! Young readers can access the reading and be responsible for their own learning as the family travels." —Melissa Kramer Anderson, first grade teacher
"I love this! How fun would it be to take this book on a family road trip! The variety of activities will keep kids engaged because there is always something new to do with each state's section. This will be a great tool to help kids learn about the different places in the United States. As they learn more about our country in school, they can use this book to further their knowledge." —Kim Phillips, English Language Arts teacher
"I am impressed with how brilliantly the states were researched and written. The details are fascinating and so fun to learn. I love the activities and illustrations; they are engaging and ignite creativity and curiosity in the reader. As an executive who has traveled the globe, I've learned some pretty cool facts about my own country. This book has moved me to complete the tour of all 50 states and US territories. I highly recommend Nicole's book. You'll want to share it will all the kids you know!" —Tanya Taylor, owner, Travels & Treasures