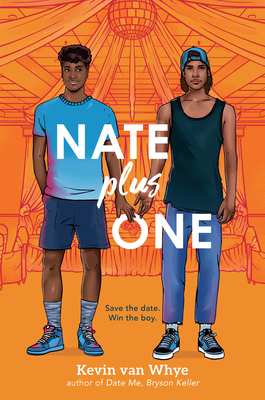 Nate Plus One
Publication Date:
May 10th, 2022
Publisher:
Random House Books for Young Readers
Breakwater Books
On hand, as of Dec 3 5:22pm
(LGBT - YOUNG ADULT)
On Our Shelves Now
Description
Boy plus boy. Two weeks in Johannesburg. A summer of music, adventure, self-discovery . . . and definitely not love. What could go wrong?
 
Nate needs a date to his cousin's wedding. Jai is Nate's best friend and secret crush. Could Jai be Nate's plus-one—and only?
Nate Hargraves is a behind-the-scenes kind of guy. That's why he dreams of being a songwriter instead of a singer. But things change the summer after junior year as Nate gets ready to fly to South Africa for his cousin's lavish destination wedding. The trip is bound to be epic. Except—Nate just found out that his ex-boyfriend will be at the reception. Ugh. He does not want to face this one solo.
 
Jai Patel, Nate's best friend (and secret crush), has his own problems. The lead singer of Jai's band, Infinite Sorrow, quit weeks before a contest that promised to be their big break. But Nate rocks Jai's world when he agrees to sing with the band. Even though Nate's not one for the spotlight, he knows this is the kind of stuff you do for . . . friends. In return, Jai volunteers to be Nate's travel buddy around South Africa, a buffer against his ex, and his plus-one at the wedding.
 
Maybe this summer will be epic after all. Now that Nate's crush is on board, will love crash the party? Fall in love with this joyful, swoon-worthy rom-com by the author of Date Me, Bryson Keller.
Praise for Nate Plus One
Praise for Nate Plus One:
"Hits all the right notes." —Kirkus Reviews
"[An] exuberant summer love story." —Publishers Weekly
"Readers, who will root for the likable characters, will be happy to themselves be Nate's plus-one." —Booklist
Praise for Date Me, Bryson Keller by Kevin van Whye:
"I can't tell you how much joy [Date Me, Bryson Keller] brought me. One of the most adorable, big-hearted, charming books in existence." —Becky Albertalli, #1 New York Times bestselling author of Simon vs. the Homo Sapiens Agenda

"A sweet romance and exploration of the ways we can accidentally fall in love. Adorable and authentic." —L. C. Rosen, author of Jack of Hearts (and Other Parts) and Camp
"[A] fantastic love story . . . Uplifting." —BuzzFeed
"A poignant, cute queer love story that showers teens with support and shows that the hate will never win as long as we stick together." —The Nerd Daily
"An adorable featherlight romance." —The Guardian
"A fun, feel-good story that shows the importance of having a strong support system, that love is love, and that everyone deserves to love and be loved." —School Library Journal

"This #ownvoices debut is scrupulously romantic . . . A solid blend of swoon-worthy moments and minor injustices." —Kirkus Reviews

"[Kevin van Whye] writes a coming-out story with authority and empathy . . . The execution is appealing, and readers, too, will want to date Bryson." —Booklist

"Debut author van Whye uses the dare to set up a book filled with good-natured sweetness." —Publishers Weekly