New Release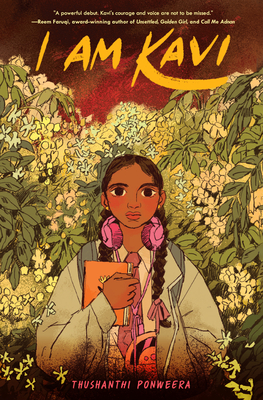 I Am Kavi
Publication Date:
September 19th, 2023
Usually Ships in 1 to 5 Days
Though written about a time and place far removed from today's young American readers, this beautiful novel in verse has themes that are immediately relatable. Don't we all want to fit in? Kavi does, even if it requires bending the truth.
September/October 2023 Kids Indie Next List
Description
Caught between two worlds—a poverty-stricken village and a fancy big-city school—a young Sri Lankan girl must decide who she really is and where she really belongs.
1998, Colombo. The Sri Lankan Civil War is raging, but everyday life must go on. At Kavi's school, her friends talk about the weekly Top 40, the Backstreet Boys, Shahrukh Khan, Leo & Kate… and who died—or didn't—in the latest bombing. But Kavi is afraid of something even scarier than war. She fears that if her friends discover her secret—that she is not who she is pretending to be—they'll stop talking to her.
I want to be friends with these / happy, / fearless, / girls / who look like they / belong.
So I could also be / happy, / fearless, / and maybe even / belong.
Kavi's scholarship to her elite new school was supposed to be everything she ever wanted, but as she tries to find some semblance of normalcy in a country on fire, nothing is going according to plan. In an effort to fit in with her wealthy, glittering, and self-assured new classmates, Kavi begins telling lies, trading her old life—where she's a poor girl whose mother has chosen a new husband over her daughter—for a new one, where she's rich, loved, and wanted. But how long can you pretend to be someone else?
This dazzling novel-in-verse comes from an astonishing new talent who lived through the civil war herself. Perfect for fans of Jamine Warga, Supriya Kelkar, and Rajani LaRocca, I Am Kavi centers a powerful South Asian voice, and stars an unforgettable heroine each and every one of us can relate to. 
"KAVI'S COURAGE AND VOICE ARE NOT TO BE MISSED."—Reem Faruqi, award-winning author of Call Me Adnan, Unsettled, and Golden Girl
"I LOVED IT!"—Nizrana Farook, award-winning author of The Girl Who Stole an Elephant
"POWERFULLY WRITTEN."—Lyn Miller-Lachmann, author of Los Angeles Times Book Prize Winner Torch
"LUSH AND EVOCATIVE... A STUNNING DEBUT."—Kate Albus, award-winning author of A Place to Hang the Moon
A Junior Library Guild Gold Standard Selection
An Indies Introduce Selection
Praise for I Am Kavi
★ "A moving coming-of-age story written in verse about understanding and embracing who you truly are."—The Horn Book, Starred Review
 
"The verse novel has some striking imagery, skillfully capturing the intensity of Kavi's hope, doubt, shame, and determination as she negotiates her reality and her desires."—The Bulletin for the Center of Children's Books
 
"Ponweera employs spare but descriptive verse that perfectly captures the inner turmoil of a young girl wading her way through the complexities of family, friendship, identity, and emotions. Rich details of life in a middle school in Colombo add texture and nuance. Readers will find her story engaging and the resolution quite satisfying."—Booklist
"A serious and relatable tale of everyday life intersecting with and diverging from the realities of war."—Kirkus Reviews
"A stirring novel in verse, traces a 10-year-old's desire to fit in. . . . Amid a historical setting informed by classism, colorism, and colonization, short reflective phrases and vivid cultural details bring out the nuanced story's emotional depth and show the devastating impact of war on Kavi and her loved ones."—Publishers Weekly