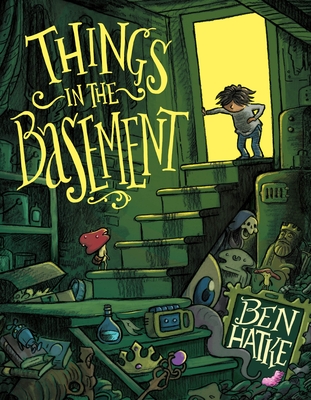 Things in the Basement
Publication Date:
August 29th, 2023
Usually Ships in 1 to 5 Days
Atmospheric and spooky, but full of adventure, this near-wordless graphic novel is the perfect blend of action and heart. Perfect for fans of the Amulet series, Coraline, and Jon Klassen's The Skull.
September/October 2023 Kids Indie Next List
Description
From New York Times bestselling author Ben Hatke comes Things in the Basement, a young readers graphic novel about Milo, a young boy who discovers a portal to a secret world in his basement.
It was supposed to just be a normal basement—some storage boxes, dust, you know, the usual basement stuff. But when Milo is sent by his mother to fetch a sock from the basement of the historic home they've moved into, Milo finds a door in the back that he's never seen before. Turns out that the basement of his house is enormous. In fact, there is a whole world down there. As Milo travels ever deeper into the Basement World, he meets the many Things that live in the shadows and gloom...and he learns that to face his fears he must approach even the strangest creatures with kindness.
Praise for Things in the Basement
"Hatke is a wondrous artist with a cogent vision….the book's storyboarding is itself a tour of darkness and delight." —The New York Times

"Hatke gently blends both whimsical and terrifying imagery to create a fantastical, dreamily atmospheric katabasis..." —Publishers Weekly, starred review

"Ben Hatke's inspired plot is visually driven, creative, and multilayered...Things in the Basement is a gorgeous, maze-like graphic novel for young readers..." —Shelf Awareness, starred review
"Hatke is at his best in this book that blends fantasy with reality, deftly ­harmonizing murky greens and browns with cool blues and purples to create an eerie and wonderful atmosphere." —School Library Journal, starred review

"A journey of loss both intimate and fantastical, swept along by flowing, emotive illustrations." —Kirkus Reviews