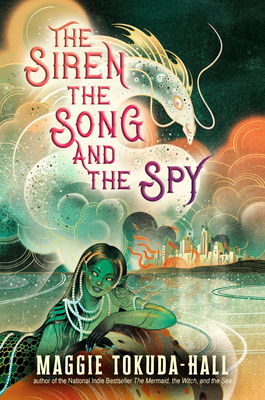 The Siren, the Song, and the Spy
Publication Date:
September 26th, 2023
Breakwater Books
On hand, as of Dec 3 5:22pm
(YA HARD & SOFT COVER 13 & UP)
On Our Shelves Now
Description
In this second vibrant fantasy from Maggie Tokuda-Hall, companion to her best-selling debut, The Mermaid, the Witch, and the Sea, a diverse resistance force fights to topple an empire in a story about freedom, identity, and decolonization.
By sinking a fleet of Imperial Warships, the Pirate Supreme and their resistance fighters have struck a massive blow against the Emperor. Now allies from across the empire are readying themselves, hoping against hope to bring about the end of the conquerors' rule and the rebirth of the Sea. But trust and truth are hard to come by in this complex world of mermaids, spies, warriors, and aristocrats. Who will Genevieve—lavishly dressed but washed up, half-dead, on the Wariuta island shore—turn out to be? Is warrior Koa's kindness toward her admirable, or is his sister Kaia's sharp suspicion wiser? And back in the capital, will pirate-spy Alfie really betray the Imperials who have shown him affection, especially when a duplicitous senator reveals xe would like nothing better?
Meanwhile, the Sea is losing more and more of herself as her daughters continue to be brutally hunted, and the Empire continues to expand through profits made from their blood. The threads of time, a web of schemes, shifting loyalties, and blossoming identities converge in Maggie Tokuda-Hall's remarkable companion to The Mermaid, the Witch, and the Sea, as unlikely young allies work to forge a new and better world.
Praise for The Siren, the Song, and the Spy
A tragedy upends the worldview of a handmaid to an Imperial spy in this follow-up to 2020's The Mermaid, the Witch, and the Sea. . . . No one escapes the Sea's reckoning in this searing sequel. The cast is diverse in gender identity, sexual orientation, skin color, and socioeconomic status. Together, they tell a story in which justice isn't attained through a cycle of vengeance but with the truth laid bare, paving the way toward reconciliation. Powerful and emotionally gratifying.
—Kirkus Reviews (starred review)
As in the first volume, the diversity of the archipelagic world is again proudly, organically on display, with a variety of nationalities and cultural experiences shaping characters' relationships to the Empire.. . . . Most importantly, the novel's decolonial imagination challenges readers to re-envision received notions of power, accountability, compassion, grief, liberty, and resistance.
—The Bulletin of the Center for Children's Books
The Siren, the Song, and the Spy is a welcome companion to Maggie Tokuda-Hall's ethereal The Mermaid, the Witch, and the Sea, and brings to a head the long-simmering conflict between the Resistance and the greedy Nipran Empire. . . . Magical prose flows smoothly and brings a sense of enchantment to the story. This strong offering about imperialist aggressions, rebels, and reprisal should effortlessly sweep readers into its realms as it makes a compelling plea for pacifism.
—Shelf Awareness
The follow-up to The Mermaid, the Witch, and the Sea cements Maggie Tokuda-Hall as one of the most unflinching voices in contemporary genre literature. This book contains the compassion we need alongside the reckoning we deserve.
—Sarah Gailey, author of When We Were Magic
The narrative weaves delicate intrigues, ever-shifting allegiances, and the evolution of identities as young allies band together to forge a new world and protect the sea's mystical inhabitants from falling prey to commercial endeavors. . . . A high-fantasy novel that will resonate with those seeking an escape that also mirrors the complex realities of colonization and war.
—School Library Journal