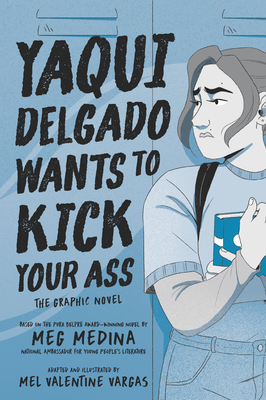 Yaqui Delgado Wants to Kick Your Ass: The Graphic Novel
Publication Date:
September 5th, 2023
Breakwater Books
On hand, as of Dec 3 5:22pm
(GRAPHICA - YOUNG ADULT)
On Our Shelves Now
Description
Newbery Medalist Meg Medina returns to her powerful YA novel about school bullying with a dynamic graphic-novel edition adapted and illustrated by Mel Valentine Vargas.
It's the beginning of sophomore year, and Piedad "Piddy" Sanchez is having a hard time adjusting to her new high school. Things don't get any easier when Piddy learns that Yaqui Delgado hates her and wants to kick her ass. Piddy doesn't even know who Yaqui is, never mind what she's done to piss her off. Rumor has it that Yaqui thinks Piddy is stuck-up, shakes her stuff when she walks, and isn't Latina enough with her white skin, good grades, and no accent. And Yaqui isn't kidding around, so Piddy better watch her back. At first, Piddy is more concerned with learning about the father she's never met, navigating her rocky relationship with her mom, and staying in touch with her best friend, Mitzi. But when the harassment escalates, avoiding Yaqui and her gang takes over Piddy's life. Is there any way for Piddy to survive without closing herself off from those who care about her—or running away? More relevant than ever a decade after its initial publication, Mel Valentine Vargas's graphic novel adaptation of Meg Medina's ultimately empowering story is poised to be discovered by a new generation of readers.
Praise for Yaqui Delgado Wants to Kick Your Ass: The Graphic Novel
Vargas adapts Medina's Pura Belpré Award winner into graphic-novel form. . . . This graphic adaptation is a fast-paced page-turner. Vargas keeps the text to a minimum and communicates much of Piddy's inner turmoil wordlessly, proving the effectiveness of this format. . . . A decade on, as relevant as ever and likely to capture the hearts of even more readers.
—Kirkus Reviews
A minimalist color palette consisting of cornflower blue, black, white, and grays reflects the weight and solemnity of Piddy's difficulties while also softening some of the severity of her experiences. . . . A carefully and skillfully ­approached, modernized adaptation that is sure to introduce Piddy and provide understanding to a new crop of teen readers.
—School Library Journal
Ten years after its original publication, Medina's award-winning story (BCCB 03/13) gets the graphic novel treatment, bringing new depth to a teen girl's efforts to navigate adolescence in the face of persistent bullying. . . . An essential addition to young adult and graphic novel shelves alike, this version will get this compelling story of resilience into the hands of a whole new cohort of adolescent fans.
—The Bulletin of the Center for Children's Books
In recognition of the 10-year anniversary of Meg Medina's Yaqui Delgado Wants to Kick Your Ass, Mel Valentine Vargas has adapted the Pura Belpré Award-winner into an inventive, compelling graphic novel. Vargas creates a new lens through which to view Piedad "Piddy" Sanchez's story by using sparse dialogue and highly emotive, limited-palette illustrations. . . a stirring account of school bullying that remains pertinent a decade after Medina's original release. By offering the story in the graphic novel format, Vargas makes Piddy a superhero as well as a protagonist who can teach bully victims that they can be the superheroes of their own stories.
—Shelf Awareness
Award-winning Medina's Pura Belpré Honor Book gets the graphic treatment in this straightforward adaptation. . . . Vargas' gray scale and soft blue artwork utilizes body language and facial expression to convey some of the emotional depth of the source material.
—Booklist
Originally published as a YA prose novel, the graphic novel adaptation of Yaqui Delgado Wants to Kick Your Ass brings a new dimension to the much-lauded story of Piddy Sanchez as she deals with extreme bullying at her new high school. . . Piddy's story is just as relevant as ever, and it's really special to see her world brought to visual life in this graphic novel adaptation.
—The Popverse